Check out the Summer edition 2023 of Marketing Miner's SEO newsletter, where we bring you the latest updates to boost your online presence. From Google updates to Search Console changes and Bing's latest developments, along with other crucial SEO news, this edition is your ultimate guide to staying ahead in the ever-evolving SEO world.
Core Web Vitals - what's new?
Google recently clarified how they use Core Web Vitals in their helpful content ranking system. They also announced dropping mobile-friendliness as a factor since most sites are already mobile-friendly. As a result, Google will remove the mobile usability report and testing tool, including its API, from Search Console by year-end.
Starting March 2024, Interaction to Next Paint (INP) will officially become part of Core Web Vitals, replacing First Input Delay (FID). You can already monitor this metric in Search Console.
If you keep receiving emails from Google Search Console warning about the INP metric on your website and you are worried about its performance, check out this Barry Pollard's informative thread explaining what it all means and how you should take action:
Google Search Console updates
Google has introduced an update to the Rich results test, allowing code editing, which simplifies and speeds up the whole process of trying out markup fixes. Furthermore, Search Console Insights now supports users without Google Analytics, making it easier to assess your website's performance in Google Search.
The 'ping' endpoint for sitemaps in Search Console will be deprecated by the year's end. You can still submit your sitemap files through Search Console and robots.txt but the HTTP requests to the deprecated REST endpoint will result in a 404 error. In this post, Google also provided recommendations for the use of the lastmod element.
In addition, Search Console will enhance its video indexing report, offering clear actions to boost the visibility of your videos in search results.
Keyword Monkey insights
We recently introduced Keyword Monkey, an AI-powered keyword research service with white-label reports to help users with keyword classification, competitor, and SERP analysis. Since the launch, in less than two months we delivered over 80 reports for keyword research and analyzed over 320 000 keywords.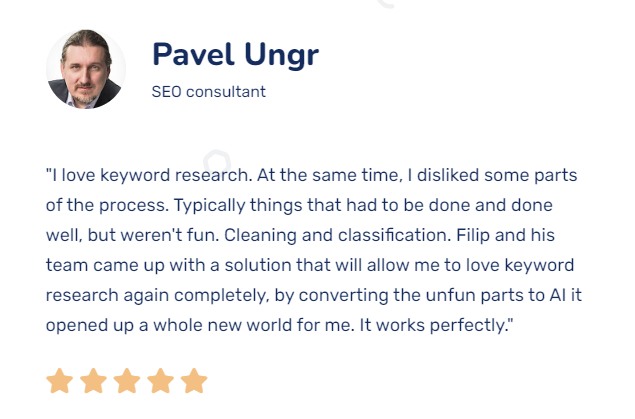 Are you looking for an AI-powered tool to scale up your SEO strategy? Get in touch with our team today to discover the most valuable keywords for your website!
Google's Perspectives Search filter is now live
Google Perspectives, the search filter unveiled at Google I/O, is now accessible on mobile devices, web, and the Google app for English searches in the US! This feature enables users to view content presenting various viewpoints related to their search queries, enhancing the search experience on the go. It lets users find videos, images, and posts people have shared on forum sites and social media communities to make well-informed decisions.
Wondering how to optimize content for Google Perspectives? Dive into this informative blog post by Dan Taylor where you'll discover how to incorporate unique viewpoints into content and create dynamic, trust-inspiring spaces that your customers will value.
Bing SEO news
Microsoft has recently announced new Shopping tools in Bing and Edge, utilizing AI to simplify the shopping experience for users. These tools aim to enhance product discovery, research, and facilitate seamless purchases, empowering users to shop smarter and save time whilst shopping.
VIDEO: https://blogs.bing.com/BingBlogs/files/12/12b60549-0093-486f-b6f4-68ab0668f836.mp4
Visual Search is now live in Bing Chat! You can now upload photos to Bing Chat and let the AI search engine provide relevant answers based on those visuals, making your searches even more intuitive and efficient.
Try Marketing Miner in action:
Screaming Frog SEO Spider update – version 19.0
The codenamed 'Peel'' update brings many new features and enhancements for SEO specialists. The crucial Unified Config update centralizes all settings into one dialog, streamlining adjustments. This contemporary setup should resonate with regular users while being even more user-friendly for beginners.
You can now also segment a crawl to better identify and monitor issues and opportunities from different templates, page types, or areas of priority. This detailed method of crawling could certainly prove beneficial for large-scale SEO projects.
Expect a new Google algorithm update this summer
Since the last confirmed update, which was the April 2023 reviews update, we are starting to see early signs of a possible Google search ranking algorithm update. Google's John Mueller was asked about an update happening this summer, in which he said on Twitter, "I'm sure we'll have some. Cue the countdown music". He confirmed that we will have at least one confirmed update to the Google search rankings before the summer is over.
Google testing links directly in Search Generative Experience
Back in May, Google also started with an experiment in Search Labs known as SGE, utilizing generative AI. This new experience has changed the way how searchers find information. It provides more tailored SERPs and creates a more interactive search environment, often resulting in zero-click searches as AI produces a snapshot from multiple information sources without links.
But it seems that Google is now actively testing showing links directly in the snapshot answers. Barry Schwartz reports that these links are visible within the text answers on both desktop and mobile devices.
A major issue with SGE is the inability to click on the AI-generated text to access the original information source. Integrating links into the generated answers will enhance the user experience and creates trustworthiness for users. Hopefully, this feature will be expanded, enabling us to see more website links once again.

Source: searchengineland.com
More SEO reads
​Google confirms related search operator is going away​
Google has removed the related search operator from its "overview of Google search operators" help documentation and has confirmed its discontinuation.
​Bard's latest update: more features, languages and countries​
We can now access Bard in new languages and countries, customize responses, add images to our prompts, and more.
Foot Locker image SEO case study: 228% increase for Google image thumbnails
Brodie Clark shared this great example of the vital role image optimization plays, as evidenced by a striking 228% boost in image thumbnail organic traffic. Are you curious about the solution to the issues and the enhancements implemented? Explore the case study for detailed insights.
​I secretly worked as a Google Search Quality Rater (you can too)
In this post, Cyrus offers a glimpse into his journey as a Google search quality rater, shedding light on the process, implications for SEO specialists, and the potential benefits for those considering similar opportunities.
Can you copyright AI-generated content?
Should you use AI-generated content in your marketing efforts? And how copyright law currently handles it? If you're leveraging AI tools for content creation, you won't want to miss this enlightening piece by Cari O'Brien addressing all these concerns.