Welcome to the August 2023 edition of our SEO news roundup! We have some big updates and interesting reads to share with you this month.
August 2023 Core Update
On 22nd August 2023, Google announced its second core update of 2023. The rollout is expected to take up to two weeks to complete.
Core updates can either boost, decrease, or not affect your website's search performance. But if you notice a dip in your rankings, there is no need to panic! A decrease in performance doesn't necessarily reflect a problem with your site. Instead of hunting for technical issues, focus on improving your site's overall quality.
MM TIP: Did you know that we automatically add notes on days with major Google updates that might influence your rankings? You can reference these notes in Rank Tracking to see if there are any changes in your organic search traffic.
Google reduced the visibility of HowTo and FAQ rich results in Search
Google has decided to reduce the visibility of FAQ and HowTo rich results for websites. The FAQ rich results now only show for well-known, authoritative government and health sites. For all other sites, this rich result will no longer be shown regularly.
HowTo rich results now only appear on desktop devices. If you want your HowTo rich results to be displayed on desktop, ensure that the mobile version of your website includes the appropriate markup.
The global rollout of these changes has already taken place. However, a small number of rich results are still being displayed as part of an ongoing experiment. The impact on websites remains unclear, with varying outcomes. While some sources report a notable effect, others argue that there is no impact at all. Check this detailed analysis of the removal of FAQ and HowTo snippets by Glenn Gabe for more information.
Google introduced a new ranking algorithm research
Google introduced a new term weighting BERT (TW-BERT), a ranking framework that assigns weights to words within a search query to improve search results by determining the relevance of documents. TW-BERT is also useful in query expansion to better determine what the search query is about.
While Google has yet to officially confirm its utilization of TW-BERT, this new framework is a breakthrough that improves ranking processes across the board. In addition, its user-friendly deployment increases the chances of its practical implementation.
Try Marketing Miner in action:
Google now indexes CSV files
Yes, that's right. Google quietly updated their documentation to note that they are now indexing CSV files. This is in addition to previously using them via structured data for enhanced appearances in search results.
Google Images shows the site name, favicon, and page title
Previously, Google displayed only the image, then it tested showing the site name and favicon. But now users can see it all. Google Images now display the site name and favicon. Below this, there's also a second line that shows the page title from which the image is sourced.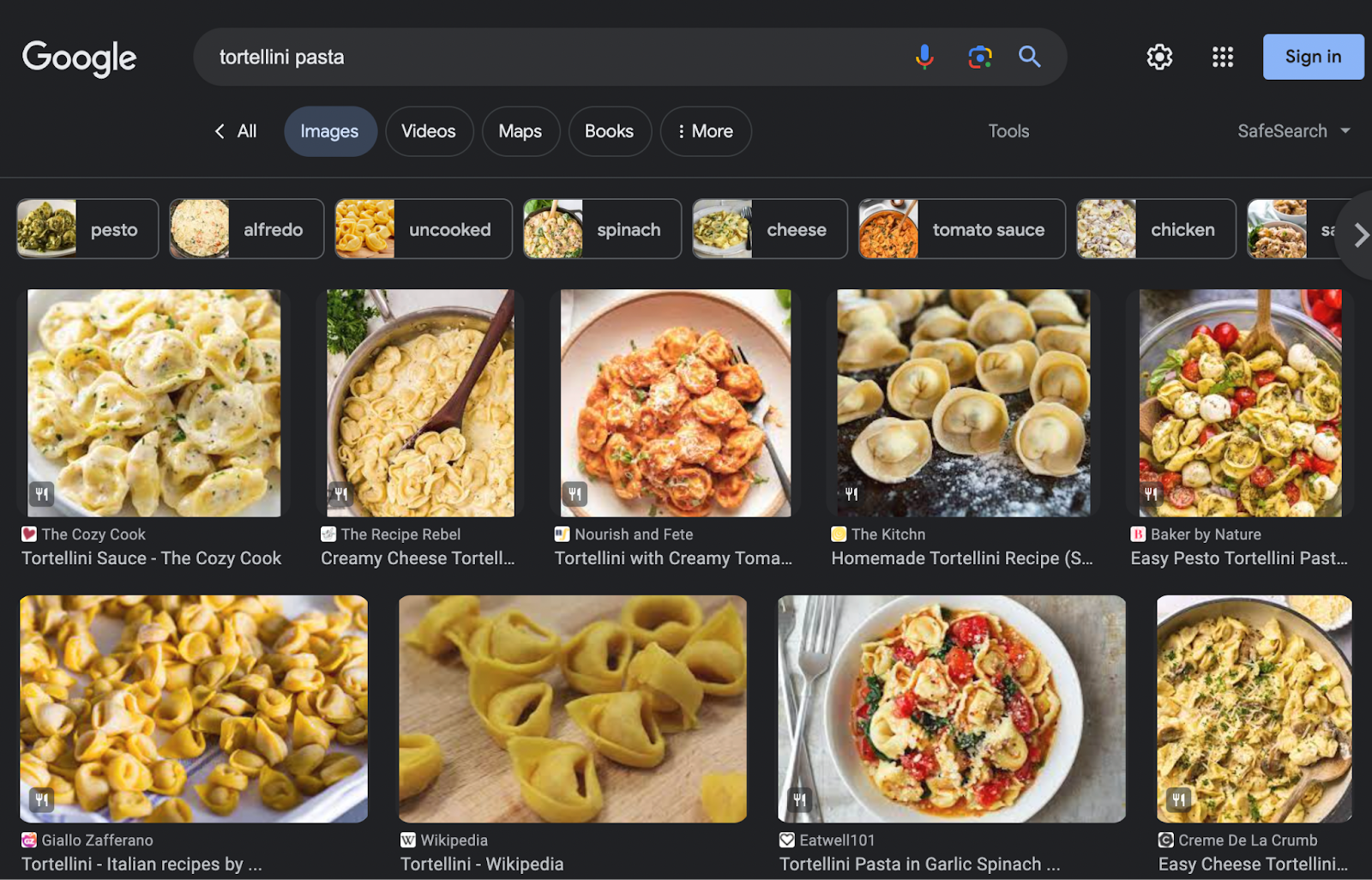 Google warns against content pruning
Earlier this summer, the technology-focused news site CNET removed thousands of articles to try to improve its rankings in organic search. They believed that so-called content pruning sends a signal to Google that says CNET is "fresh, relevant, and worthy of being placed higher than our competitors in search results."
While there might be differing opinions among SEOs, a week after this information was made public, John Mueller commented that content age should not be the sole deciding factor and that just deleting things blindly doesn't improve your SEO.

"You can use various factors to make a list of *potentially* unhelpful content - age, traffic, bounce, time on site, etc. - it's a starting point, but don't use it as a deciding factor alone. Few people read your "About us" page, and it probably hasn't changed in years, but I wouldn't recommend deleting it, because it has unique value for your site, and for the web."
Bing updates
Bing Chat and Bing Chat Enterprise are now supported in the Chrome desktop browser. Microsoft is currently working on bringing more features to Bing Chat, including using more characters and having access to its memory. Mikhail Parakhin, the CEO of Bing, also hinted at more code improvements. For example, there's a code interpreter in the works. "It will be introduced gradually, but it's a few months away due to security considerations."
Our Top 5 SEO reads
If you want to be relevant in the search engine results pages, it is crucial to create content that matches search intent. In this article by Claire Brain, you'll discover actionable steps, including classifying user intent and analyzing SERPs, which will guide you in aligning your content with what users are searching for.
Have you restricted ChatGPT from accessing your website content yet? Yes, ChatGPT gets access to website content to learn from it. However, OpenAI recently shared details on how to block its GPTBot. In response, numerous websites, including large ones such as Amazon, Quora, and Indeed, have started blocking it. Read this interesting study by Jonathan Gillham's team to discover which websites are already blocking GPTBot.
Check out this interesting article by Ryan Lingenfelser to uncover the critical search indexing issue many SEOs overlook, the accidental exposure of client data on Google, and learn how to prevent sensitive content from appearing in search results.
In this post, Miriam Ellis condenses the key insights from various presentations at MozCon 2023, with a particular focus on their significance for all local SEOs and local business owners.
This blog post by Sanja Markovic outlines the most common mistakes that can lead to an unsuccessful website migration project so that you can avoid them.
Marketing Miner news
Faster reports and changes in architecture
Throughout the summer, we focused on restructuring the architecture for processing reports and projects. We have now successfully pushed live this modification, which is expected to especially enhance the processing speed of large reports.
Keyword Monkey updates
This new update is especially useful for users without their own set of keywords to analyze in Keyword Monkey. Now, Keyword Monkey can retrieve keywords that your competitors are successfully targeting in search results.
Furthermore, users also have the ability to generate similar keywords using their seed keyword list.