Data-Mining-MacGyver für Online-Vermarkter!
Grundtarif für immer gratis!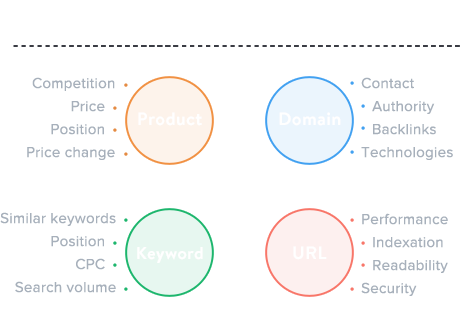 oder
Via Google anmelden
Who is the application for?
project owner / e-shop
Gaining data for web audit fast and all under one roof, necessary material for keyword analysis or information about the competition was never easier. Thanks to Marketing Miner aggregating lots of tools, our specialists are faster and more effective. On top of that Marketing Miner has an excellent academy on how to work with data! Thanks Filip!
---
agency
Our SEO consultants appreciate the quick mass checks of website indexing, mass mining of key phrases from different autocomlpete services, determining positions of image search and other often unique functions. PPC specialists are very fond of quickly finding out who advertises the same keywords in paid ads and what do their ads look like. The competition analysis is also used by businessmen and analysts love all the tools for numbers mining. Simply a tool for the whole online marketing family!
---
individual
Marketing Miner is a dream come true for me, I`ve always wanted a tool that could do what the internal tool SEO tools in Atax could do, but better. In cloud. Marketing Miner can do that and much more. Thanks to MM we don`t have to spend money on tons of different tools because MM has replaced them all. I think that this is a big thing, that every consultant needs it to do their job.
---

You still don`t know what can our application do? Let`s do this!
---
There is no shame in not knowing..
.. and that`s why we have prepared for you a complete academy with a description of all options and functions.
Display the academy
We know all the tricks of the trade
DO you want to know how Marketing Miner
helped different companies in practice?