In May's edition of SEO news, we cover the latest core update, new WordPress release, Google Marketing Live 2022, Google product news, interesting SEO reads, and the latest updates in Marketing Miner.
Google launched May 2022 core update
Google is currently rolling out its first broad core algorithm update of 2022. There is not much more detailed information about what will actually be implemented. However, Google previously shared tips and best practices for coping with core updates, where they suggest focusing on offering the best content you can.
In short, you should focus on the following questions:
Does the content provide original information, reporting, research or analysis?
Does the headline and/or page title provide a descriptive, helpful summary of the content?
Is this the sort of page you'd want to bookmark, share with a friend, or recommend?
Does the content present information in a way that makes you want to trust it?
Is this content written by an expert or enthusiast who demonstrably knows the topic well?
Is the content free from spelling or stylistic issues? And was the content produced well?
Does the content provide substantial value when compared to other pages in search results?
Do you follow the search quality rater guidelines?
Have you been hit by Google's latest core algorithm update? We recommend looking at the flowchart by Aleyda Solis below to know what to do next. Aleyda also created this segmented Google Data Studio Report for a quick Google Search Console's rankings evolution.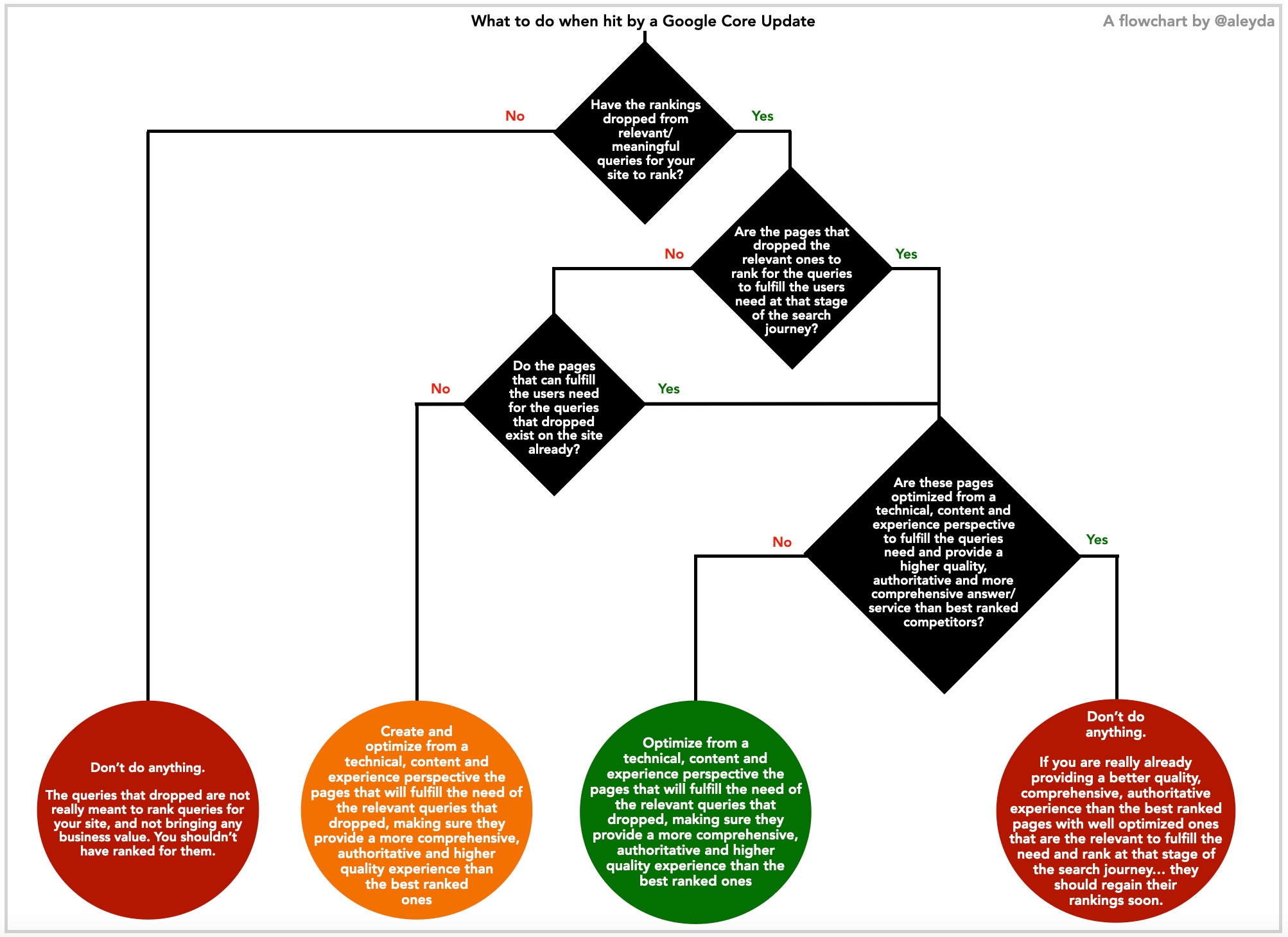 Say hello to "Arturo" and WordPress 6.0
The second major WordPress release of 2022 is here! This update introduced nearly 1,000 enhancements and bug fixes to mainly improve the writing and designing experiences. So what's new?
New full site editing enhancements and features
New templates
Easy theme style switch
Better writing experience
Improved list view
Export block themes and new core blocks
Additional design tools (such as responsive group layouts, border controls, gallery spacing, new color panel, …)
Enhanced accessibility
Take a look at the official WordPress release notes for more insights.
Google Marketing Live 2022
In May, Google's annual Marketing Live event unveiled many updates to its ad products, and we summarized the most important ones for you below.
Performance Max updates:
Google added more tools for experimentation to show how Performance Max campaigns are driving incremental conversions.
From now, users can optimize toward in-store sales goals to drive more in-store sales, store visits, and local actions.
Optimization score and recommendations - Google will be placing automated optimization tips in their most automated campaign type.
New insights and explanations, including attribution, audience and auction insights to understand what's driving performance.
With new burst campaigns, users can boost in-store traffic during seasonal events.
Advertisers using Search Ads 360 and the Google Ads app will now be able to manage Performance Max campaigns thanks to the expanded campaign management support.
More product announcements from Google:
Product feeds will start appearing on YouTube Shorts to make video ads more shoppable.
We might also start seeing video ads in Google Discover soon.
US advertisers will be eligible to show new, highly visual Shopping ads to their customers.
Merchants will be able to have 3D models of their products appear directly on Google search. Shoppers will then easily see them in their own spaces.
New loyalty programs will be integrated into ads to promote a meaningful relationship between advertisers and their customers.
Connected TV campaigns coming to Display & Video 360 to reach affinity, in-market, and demographic audiences across YouTube and other ad-supported connected TV apps.
My Ad Center will allow users to control the ads they see.
Take a look at this handy overview of new eCommerce features that Google announced last month for more details.

How to optimize images for your eCommerce website
Product images play a vital role in creating a great user experience that retains customers. They enhance the product description and are also the customer's chance to actually sense your products. But it's not only about the images themselves. Optimizing eCommerce images for search engines help increase your traffic and revenue. Google shared these six useful tips to optimize images on your eCommerce website:
Eliminate image Cumulative Layout Shift (CLS)
Correctly size your images
Serve images in the best image file format
Compress images appropriately to reduce download sizes
Cache images in the browser
Correctly sequence your image downloads
For more details on any of the above tips, see the full video from Google:
More Google updates
Google deprecated several image and video sitemap extensions. You no longer have to use tags such as geo location, image title, image caption, video category, and others. Read the full announcement to see what tags and attributes are affected.
Google updated advice on how to control titles in search results. The new section of the developer support page is about troubleshooting title tags in order to identify why Google may be changing our title links. This article from Search Engine Journal covers seven best practices for writing title tags to influence what Google shows in the search results.
23 Million Internal Links - A Google SEO Case Study
Internal links mainly connect your content and give Google an idea of the structure of your website. If we use them strategically, they can be very effective. Do internal links still matter for SEO in 2022? Cyrus analyzed 23 million internal links across 1,800 websites to find patterns and identify opportunities. Read this fantastic case study for internal linking best practices and optimizations.
What does the short-form video trend mean for SEO?
Video marketing is growing and reaching more consumers than ever before across all social media platforms. TikTok's screen time per user is now crushing its competitors. It overtook giant YouTube for average watch time and engagements in the US and UK. As a result, ad monetization on Youtube has slowed down. What does this mean for SEO?
Kevin Indig looked at this trend a bit closer to explain what short-form videos mean for SEO. Learn more here.
Marketing Miner news
In Profilers, you can now analyze any keyword or website data for the UK & US markets. No keyword research tool would be complete without a large database of search terms and phrases, and our Keyword Profiler has just that. At the moment, our database exceeds 394 million ​​of the most popular keywords with search volume higher than 10. All data is updated daily and we are still adding new keywords every day. Want to know more about how our Profilers work? Try them now to see for yourself!
Did you know that we also have a private Facebook support group? We want to help you connect with other amazing people in the industry and share inside tips for how to make the most out of all Marketing Miner's features. All users are welcome regardless of their subscription plan. We cover everything from the latest tool updates, Marketing Miner tips & tricks to important industry news.

Come and join us!