Product analysis in price comparison websites
Eshop | Filip Podstavec
Find out how to obtain data on products, their highest and lowest prices, your position in the product list and lots more from the product comparison websites such as Heureka.cz or Zbozi.cz. This information can be useful for eshops that can accordingly direct their bidding or pricing strategy. It also provides info on which products are paired correctly and which are not and that information can be used to optimize the input in the form of XML feed into a form that will lead to a higher traffic from these sources.
Step 1
Import of product names for which a user wants to obtain data
The ideal input for Product Miners is a product feed. Marketing Miner can process a feed from the following services:
The most frequent input is the entire feed of an eshop that can be imported by inserting the URL address into the box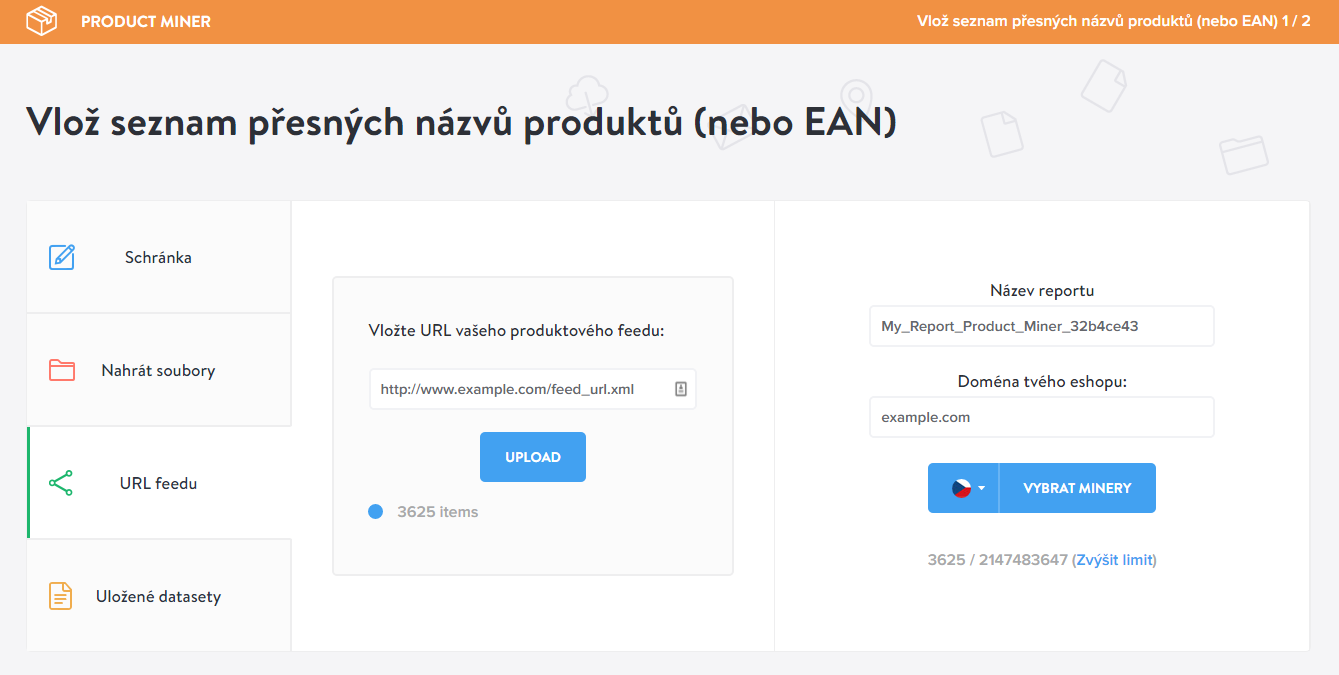 And clicking on the Upload button. A user then selects a market, next to the button Select Miners, for which he wants to collect data and fills out the domain of his eshop. After clicking on Select Miners he then gets to the section of miner selection.
Step 2
Service selection and data collection
V sekci výběru minerů poté uživatel zvolí služby, ze kterých chce data o svých produktech získávat. K dispozici jsou následující služby:
Output example
The example shown below is for a couple of eshops Mall.czin the comparison website Heureka.
Column description
List: Heureka
Product URL
URL of found product in the service
Product name
Product name
Category
Product category (if it's available within the given service)
# of competitors
Number of eshops that sell given product
Highest price
The highest price of product among eshops
Lowest price
The lowest price of product among eshops
Your position
Position of eshop domain input by a user in the list of eshops/products
Your price
Price on user's eshop
Product rating
Product user rating of a service (if it exists in given service)
# of product reviews
Number of product user reviews of a service
Eshop [XXX] availability
Availability of a product of a competition's eshop that is on the list on the Xth position
Eshop [XXX] name
Name of competition's eshop that is in the list on the Xth position
Eshop [XXX] price
Price of given product of a competition's eshop that is on the list on the Xth position
Step 3
Output analysis
An output can then be analyzed by the user with a use of tools that can work with XSLX outputs. We recommend these step-by-step instructions of analysis below:
Filip is Marketing Miner CEO. His daily food are innovations and new link building & SEO techniques. As a consultant he has more than 10 years of experience.