Keyword search volume determination
SEO | 31.10.2016
Determining keyword search volume can help user identify potentially interesting queries that users of fulltext search engines search. Search volume is also a key metric for key phrases analysis. Marketing Miner allows user collect data on a large scale on keyword search volume of search engines Seznam a Google.
Step 1
Import of words, for which a user wants to collect data on search volume
To get a summary of phrases search volume, it is necessary to first import particular phrases into the miner. To do so, a user uses the section Keyword Miners, where he imports dataset of phrases using one of the methods of import.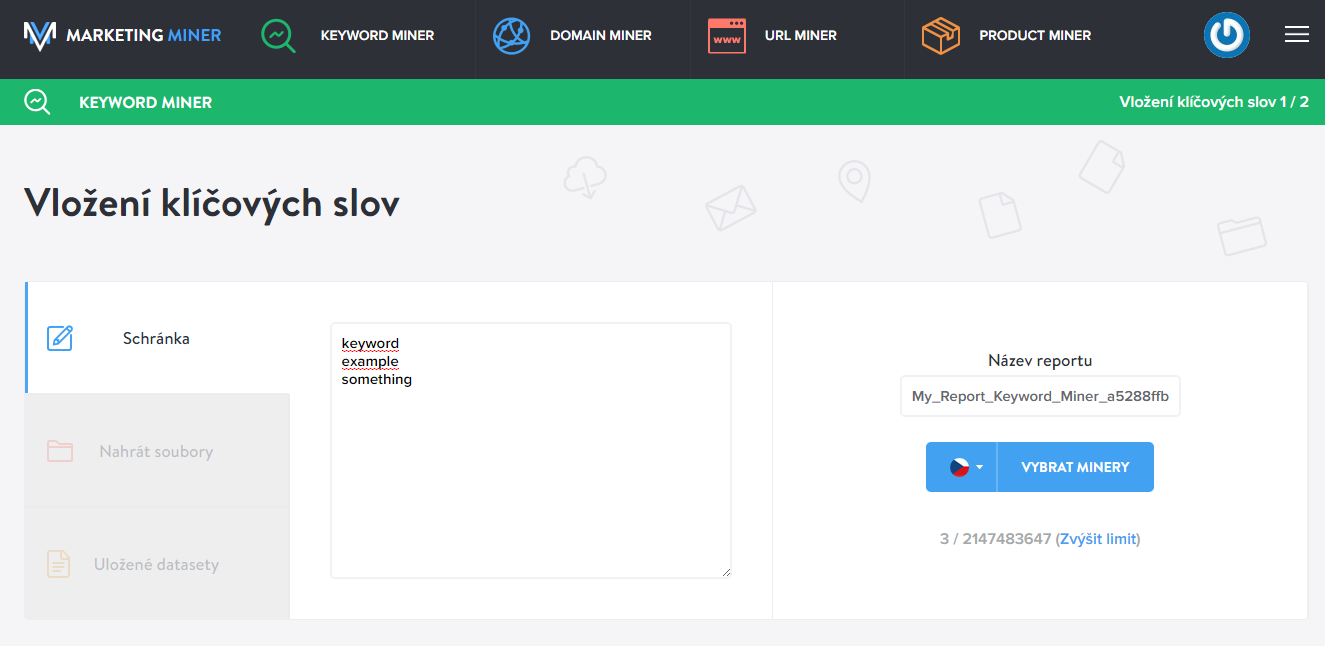 It is useful to give the report a name, by clicking on Dataset name that makes it easy to be identified. In case a user wants to save input dataset for future use for different purposes, they can check the box Save dataset.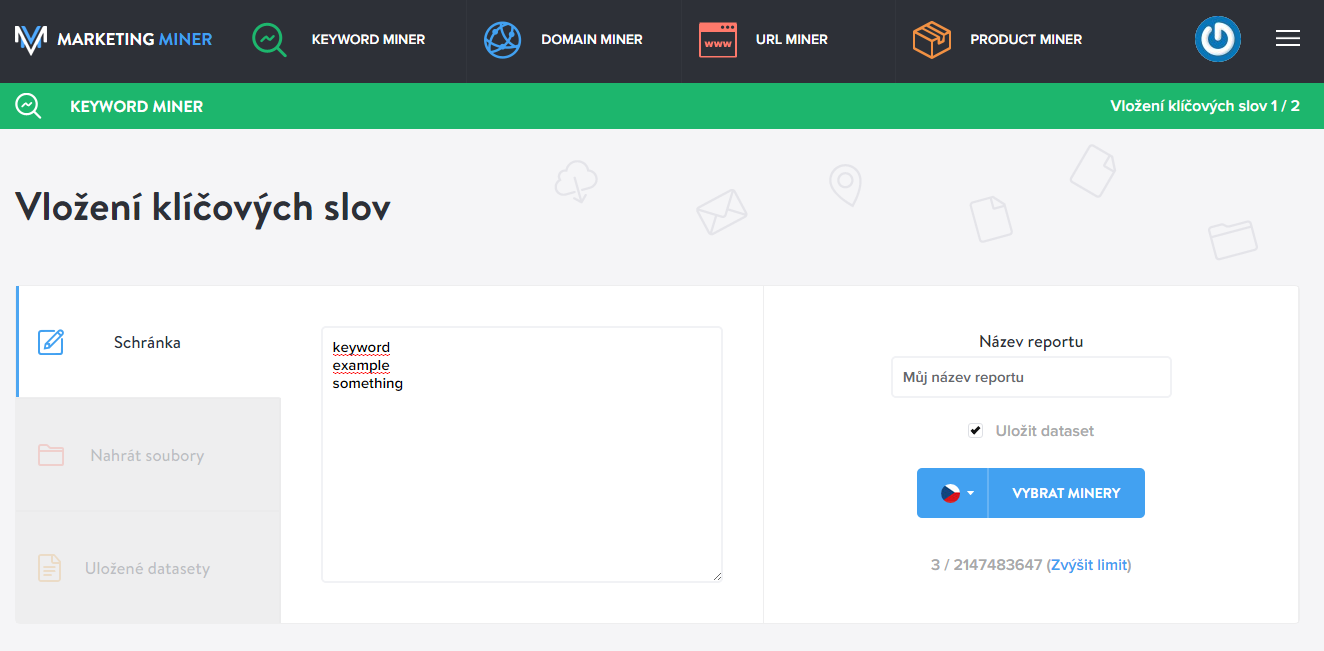 User then selects the country he wants to collect data on by clicking on the flag next to Select Miners and by clicking on this button, he then gets to the miner selection
Step 2
Selection of the miner that gets the data on search volume
In the miner selection section, a user checks off the box Search volume miner which collects data on keyword search volume.
Step 3
Collecting data
User then clicks on Get data,which will move them into the data processing section. Based on data volume, they are processed in the background and once completed, results are emailed to a user.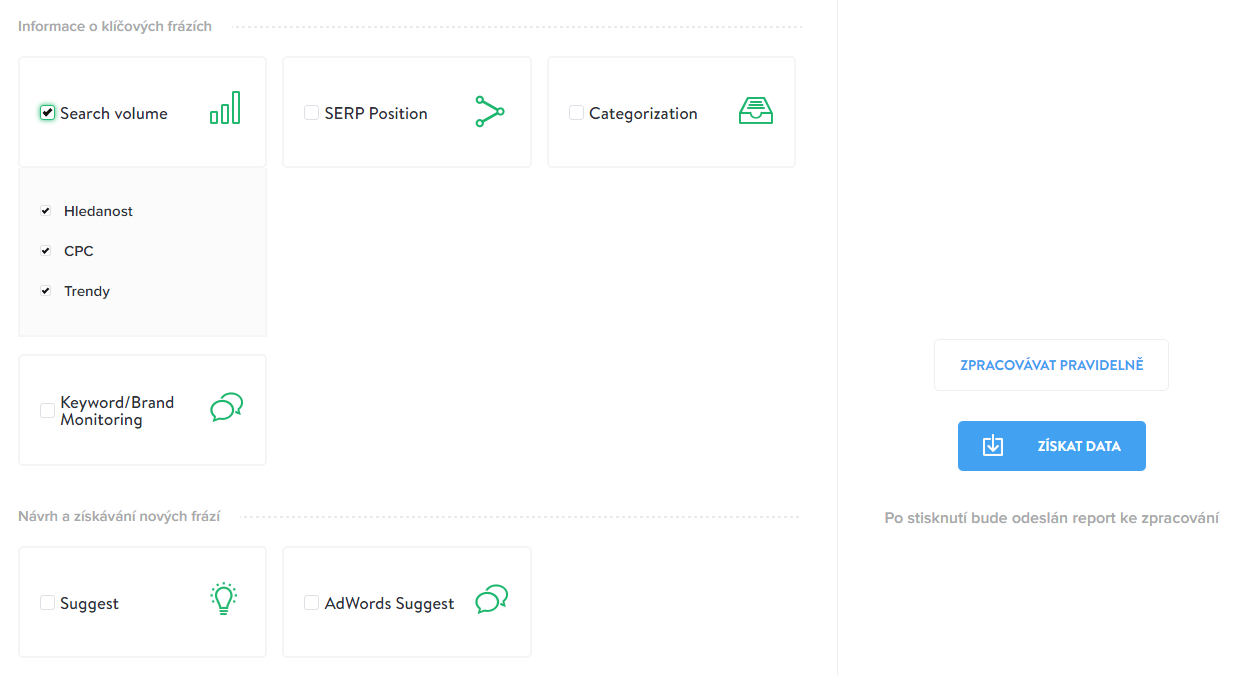 Output example
Column description
| | |
| --- | --- |
| AdWords SearchVolume | Volume of average monthly search of a phrase in search engine Google. This is calculated as an average for the last 12 months. |
| AdWords Cpc | Estimated price of a click through of ads AdWords for a given phrase. |
| Sklik Search Volume | Volume of average monthly search of a phrase in search engine Seznam. This is calculated as an average for the last 12 months. |
| Sklik Cpc | Estimated price of a click through of ads Sklik for a given phrase. |
| [Year]-[Month] | Volume of search of a query for a given month (for ability to determine trending) |
Step 4
Output analysis
An output can then be analyzed by the user with a use of tools that can work with XSLX outputs. We recommend these step-by-step instructions of analysis below: