Collecting contact information of a domain
SEO | Filip Podstavec
Collecting contact info is often a lengthy and time-consuming process for a link builder. In the instructions below, you will learn how to mostly automate this process with the help of Contact Finder Miner that will, thanks to learning algorithms, collect primarily used email, contact website and links to social profiles, from imported domains.
Step 1
Import of domains, that a user wants to collect contact info about
To import data, a user uses the section Domain Miners, where they import domain dataset using one of the methods of import. In contact info collecting, it will be the dataset of domains of the link builder( i.e. form the market research), of which they want to collect contact info.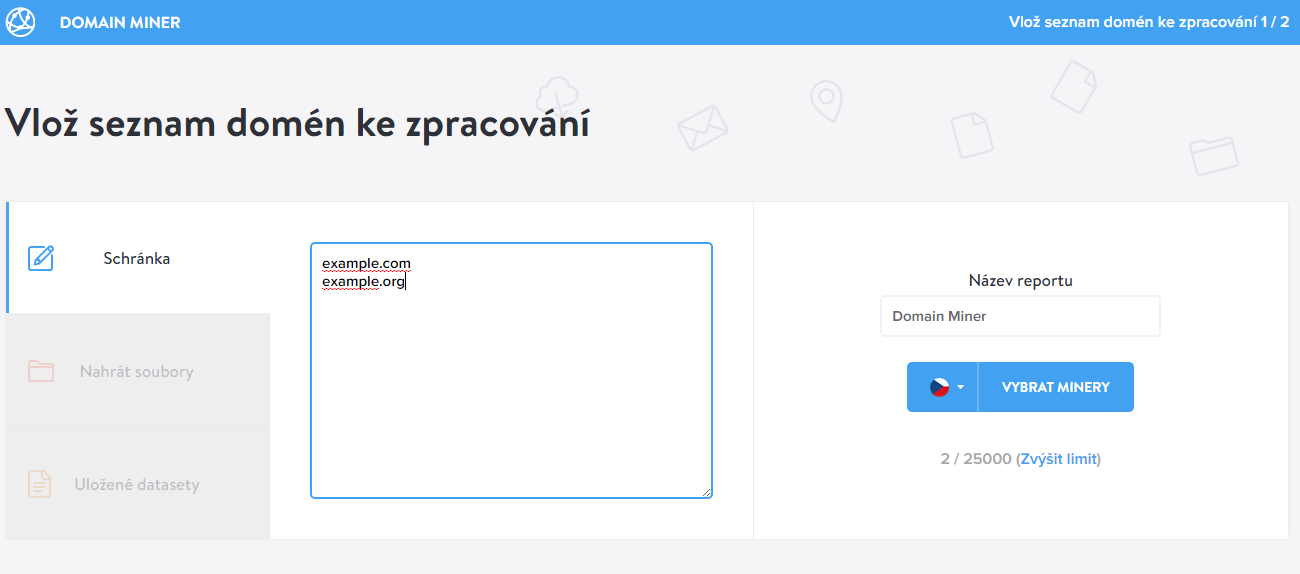 It is useful to give the report a name, by clicking on Dataset name that makes it easy to be identified. In case a user wants to save input dataset for future use for different purposes, they can check the box Save dataset.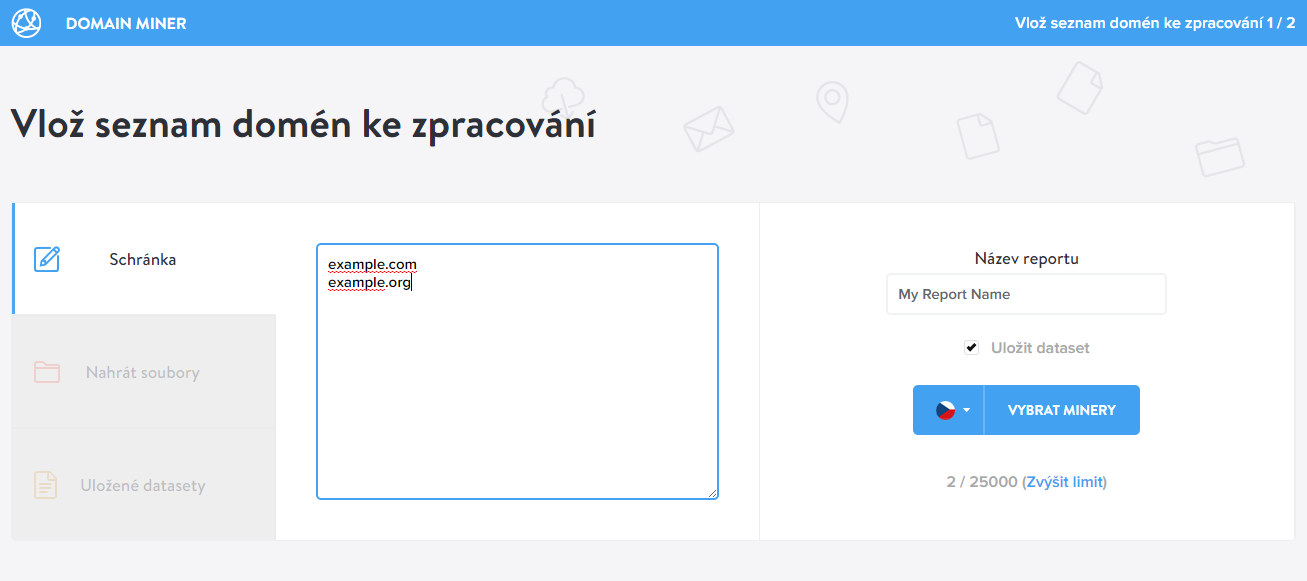 By clicking on Miner selection a user then gets to the miner selection.
Step 2
Miner selection and contact info collection
In the miner selection, a user then selects Contact Finder, which is a miner that, based on the internal algorithm used by many sources (Whois, web,..), tries to get primarily used contact email, contact website, and social web profiles, and then estimates accuracy of its selection.

User then clicks on Get data, which will move them into data processing section. Based on data volume, they are processed in the background and once completed, results are emailed to a user.
Output example
Column description
List: Data
Keyword/URL
Domain that a miner collected contact info about
Primary email
Primary contact email of a website
Contact Page
URL of contact website
Email accuracy
Estimated accuracy of collected data in percent
Facebook Page URL
URL of a website on social network Facebook
Twitter Feed URL
URL of a website on social network Twitter
Google+ Page URL
URL of a website on social network Google Plus
LinkedIn Page URL
URL of a website on social network LinkedIn
Step 3
Output analysis
An output can then be analyzed by the user with a use of tools that can work with XSLX outputs. We recommend these step-by-step instructions of analysis below:
Filip is Marketing Miner CEO. His daily food are innovations and new link building & SEO techniques. As a consultant he has more than 10 years of experience.