Bulk audit of page load speed and usability.
Webdesign | Filip Podstavec
Page load speed is becoming one of the fundamentals of usable web. Users become more and more demanding and the web has been headed from complexity to speed and simplicity for a long time. It is good to check your web load speed, optimize it and identify weak spots. Marketing Miner represents the solution for bulk audit of more URLs at once and thanks to that, an easier and faster identification of weak spots from the load speed point of view.
Step 1
To import data, a user uses the section URL Miners, where they import URL dataset using one of the methods of import. In case of load speed audit, it is either import of the sitemap or some example URLs.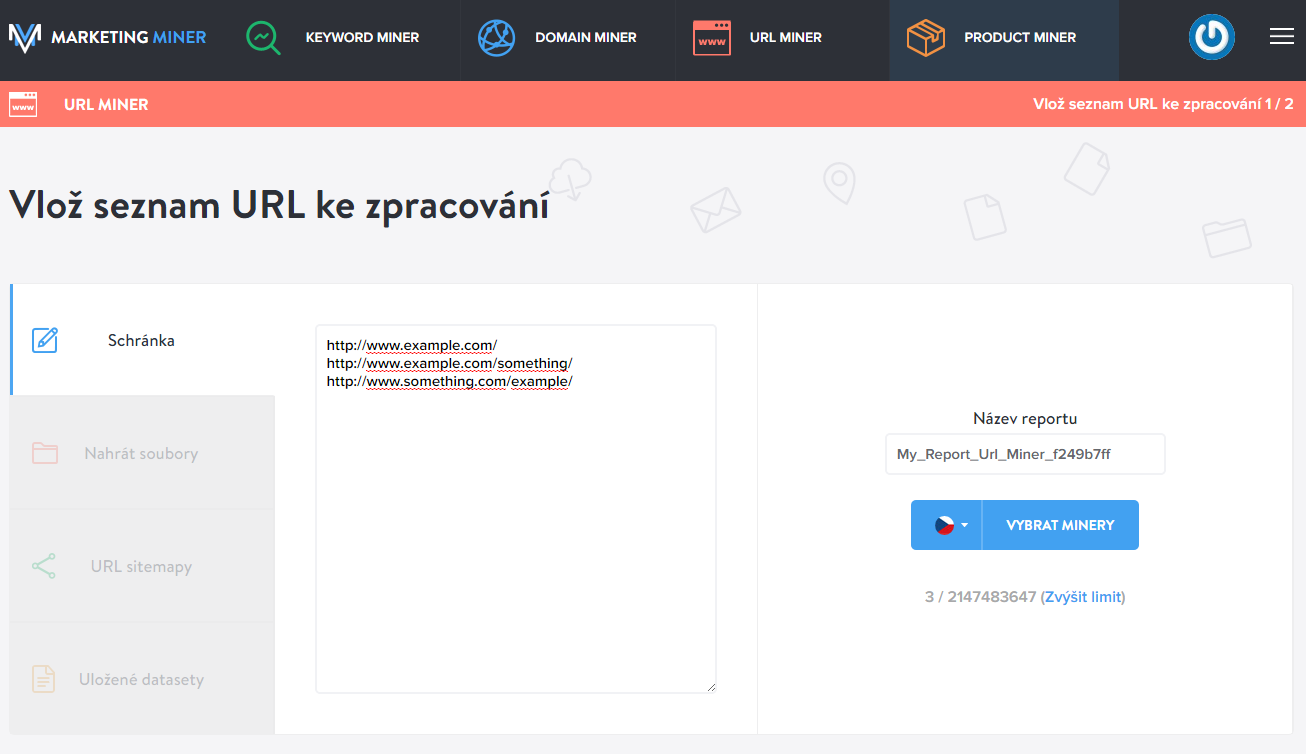 It is useful to give the report a name, by clicking on Dataset name that makes it easy to be identified. In case a user wants to save input dataset for future use for different purposes, they can check the box Save dataset.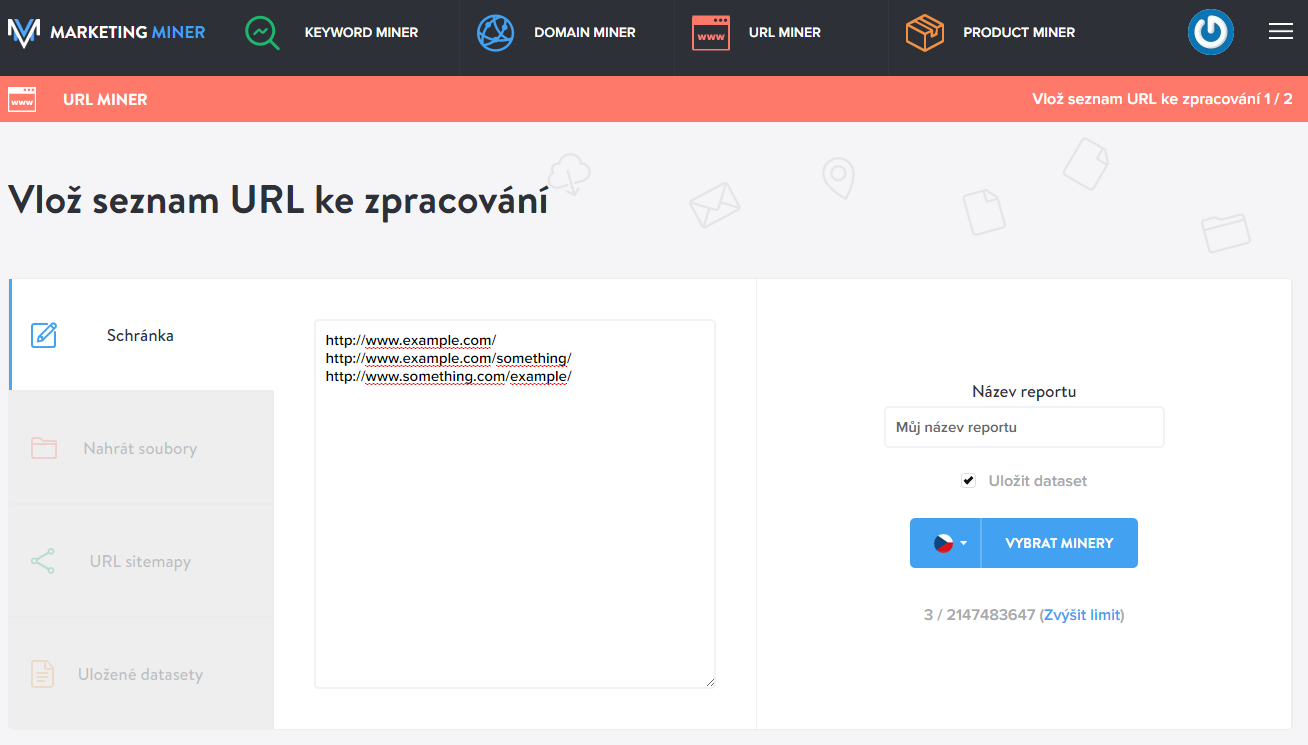 By clicking on Select Miners a user then gets to miner selection.
Step 2
Miner selection and audit processing
After getting to miner selection, a user selects PageSpeed miner and selects what data should the miner collect:
PageSpeed (Inspects data on page load speed, server response time, size of sources and many more)
PageSpeed Issues (Identifies weak spots and suggests, which problems should be solved)
Mobile Friendly (Testing, whether a page is optimized for mobile devices)
Usability (Identifies weak spots in web usability)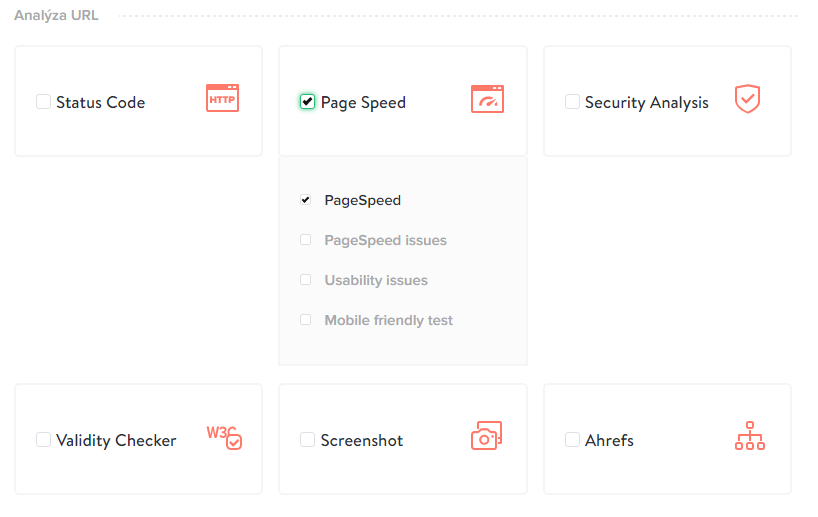 Output example
The output is a list, containing following columns:
Column description
Checkbox: PageSpeed
Keyword/URL
Tested URL
Load Time
Load time of a page in ms
DOM Content Loaded
Load time DOM in ms
Server Response Time
Response time of server in ms
Requests
Number of requests sent when page is loading
Redirected Requests
Number of requests that were redirected (unnecessary delay)
Error Requests
Number of requests that directed to non-existent sources
Requested Domains
Number of various domains, where the requests went to
Image Size
Total size of images when loading a page
Javascript Size
Total size of JS sources when loading a page
CSS Size
Total CSS source size when loading a page
HTML Size
Size of HTML in case it's stated in Content-length
Other Size
Total size of other loaded sources (videos,..)
First Biggest Request
First biggest source when loading a page
Second Biggest Request
Second biggest source when loading a page
Third Biggest Request
Third biggest source when loading a page
Checkbox: Mobile Friendly
Mobile_friendly
Identification, whether URL is usable in mobile devices as well
Checkbox: PageSpeed Issues
Score
PageSpeed Score according to PageSpeed Insights
AvoidLandingPageRedirects
There are unnecessary redirects on the page. More info
EnableGzipCompression
Web uses Gzip compression. More info
LeverageBrowserCaching
Web uses source caching correctly. More info
MainResourceServerResponseTime
Server response is sufficiently fast. More info
MinifyCss
URL uses minified CSS sources. More info
MinifyHTML
URL uses minified HTML. More info
MinifyJavaScript
URL uses minified JS sources. More info
MinimizeRenderBlockingResources
URL efficiently loads sources in a way that a user can see the content as soon as possible. More info
OptimizeImages
URL uses optimized images. More info
PrioritizeVisibleContent
Detects, whether bigger sources are necessary to load a content above the fold and whether that causes its loading to slow down. More info
Checkbox: Usability
AvoidPlugins
Detection of loading of web plugins , which is better to avoid (Flash, Silverlight,...). More info
ConfigureViewport
Detection, whether a viewport for various devices is configured correctly. More info
SizeContentToViewport
Detection, whether the content on various devices is still accessible without horizontal scrolling. More info
SizeTapTargetsAppropriately
Audit of usability of elements according to their size on various devices. More info
Step 3
Output analysis
An output can then be analyzed by the user with a use of tools that can work with XSLX outputs. We recommend these step-by-step instructions of analysis below:
Filip is Marketing Miner CEO. His daily food are innovations and new link building & SEO techniques. As a consultant he has more than 10 years of experience.